Originally known for leadership in enterprise resource planning (ERP) software, SAP has evolved to become a market leader in end-to-end enterprise application software, database, analytics, intelligent technologies, and experience management.
As an innovative cloud company with 200 million users worldwide, SAP enables businesses of all sizes and in all industries to operate profitably, adapt continuously, and realize strategic goals.
SAP is at the centre of today's technology revolution. The market leader in enterprise application software, SAP helps organisations fight the damaging effects of complexity, generate new opportunities for innovation and growth, and stay ahead of the competition.
SAP is the world leader in enterprise applications in terms of software and software-related service revenue. Based on market capitalization, SAP is the world's third largest independent software manufacturer.

In 1972, five entrepreneurs in Germany had a vision for the business potential of technology. Starting with one customer and a handful of employees, SAP set out on a path that would not only transform the world of information technology, but also forever alter the way companies do business. Now 45 years and approximately 345,000 customers stronger, more than ever, SAP is fueled by the pioneering spirit that inspired its founders to continually transform the IT industry.
Why Upskilling through SAP Education?
SAP comes in 21 industry-specific versions, which means that being a SAP specialist professional can choose his/ her favorite industry to work in.
The supply of SAP Certified Professionals is lamentably short – cause people choose unauthorized training institutes and such an unauthorized education has no demand in the job market.
Growing number of SAP clients has spelled numerous vacancies for SAP certified consultants but shortage of the right workforce
SAP Career Benefits
Globally accepted SAP certificate – leading to international opportunity
Increases and improves employability options due to wide a SAP eco-system of employers
Helps in value addition to existing portfolio
Helps to articulate how ERP technology supports a business and addresses key business needs
Overseas career opportunities & salaries
Aids to perform key business processes, understands integration points and key control of SAP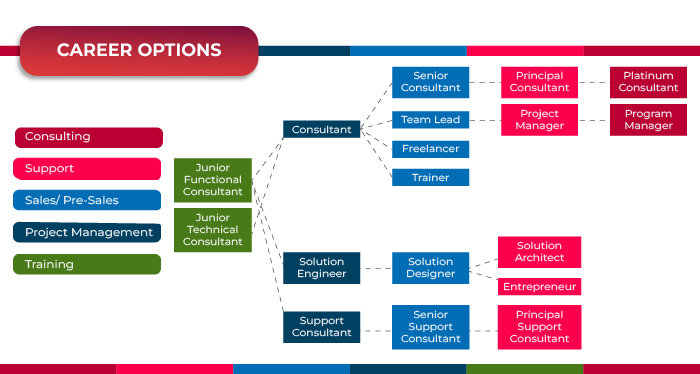 The international SAP certification examination is an important benchmark of consultant expertise, making SAP Education a must for all functional managers and IT professionals.
We impart training at three levels across modules for Functional as well as Technical Consultants apart from New Dimension training besides BASIS. Individual candidates or corporate nominated candidates could select from over 200 in-depth courses and additional industry-standard topics.
There are two ways for getting SAP certification:
1. By undergoing the full 5-weeks training at any of the Authorized Education Partners of SAP.

2. Should have at least 2 implementations experience, where the Company authenticates and sponsors the candidate. The Company, which is sponsoring the candidate, needs to be an SAP Partner.
The examination tests the candidate's ability to:
Explain and implement various core business processes and functions in R/3 in one of the following application areas: Accounting, Controlling, Materials Management, Production & Production Scheduling, Sales Order Processing, and Human Resources

Describe organizational units in the mySAP system, their characteristics, and their relationship

Define master data and make appropriate global settings (customizing)

Tailor SAP to customer's needs

Work with the SAP navigator, online documentation, process and data models, and implementation methodologies

Acquire knowledge through available documentation

Describe the SAP service support structure

Describe the technological requirements of the R/3 system. The certificate is release-based and can be updated with further training and delta tests when new releases become available
SAP Learning Hub, Solution Editions
Solution editions of SAP Learning Hub are one of the fastest routes to solution specific success.
SAP Learning Hub, solution editions help IT professionals build and maintain their solution proficiency in an SAP solution. With SAP Learning Hub you can have direct access to the enablement you need to accelerate onboarding, software adoption, and proficiency. These focused solution editions offer digital learning resources tailored to your needs within eight SAP solution areas, feature 60 hours of hands-on practice through SAP Learning System Access, and two exam bookings for SAP Global Certification, online exams. Focusing on highly applicable content and enablement not only reduces per-learner cost and time to value, but it also maximizes your return on software investment.
SAP Learning Hub, Business Edition, Public Cloud Version(HUB040)
SAP Learning Hub, Professional Edition, Public Cloud Version(HUB030)
SAP Global Certification Online Exam, Six Attempts (CER006 )
Content
A subscription to SAP Global Certification online exams provides you a 12-months access to Certification Hub, where you can schedule one exam attempt over your subscription period. Your subscription is valid for all available exams in the Certification Hub.
Your subscription is valid for all available exams in the Certification Hub. You also can take each exam up to a maximum of three times.
SAP Global Certification online exams are remotely proctored via a webcam on your PC or laptop and you can schedule your exam 24/7 via Certification Hub.
Successful examinees receive an SAP Global Certification digital badge for their accomplishment.
Goals
Gain a highly recognized accreditation of excellence.
Differentiate yourself in the labour market.
Validate your skills to execute with confidence.
Possibility to attain higher wages and billable rates with a highly valued credential.
Audience
Individuals who seek to prepare for a career in the SAP ecosystem.
Fees = 42,664.00 INR (Price excludes tax.)